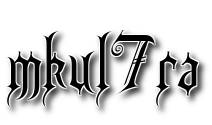 You can call me pyro. I'm quite into industrial metal,
darkwave and punk music.
I have a thorough disdain for the police, a slight dependency
on caffeine, an interest in history, and some skill in the arts.
I enjoy gothic literature. Currently, my favourite song
is Baby Turns Blue by the Virgin Prunes, which should
be playing in the background.
I made this web site to practice html, as it has interested
me from a young age, and I thought now would be a
good time to start coding as I have some free time due to
actively neglecting my responsibilities. Keep in mind, I am not necessarily good at coding yet, so this web site may not be an ideal place to stay.